Braina Speech Recognition Software
Braina is the world's best speech recognition program that allows you to easily dictate (speech to text), update social network status, play songs & videos, search the web, open programs & websites, find information and much more. You can use your voice to dictate text to your Windows computer, automate processes and improve your personal and business productivity. For example, you can dictate text to fill out online forms; or you can dictate text to a word-processing program, such as Microsoft Word quickly and accurately.
Features
Accurate speech recognition
3 times faster than typing
Works as a personal virtual assistant
Easy to set up. No need of voice training.
Simple user interface design & Easier to use
Go headset free
Supports microphones built into many laptops. You can even use Braina for Android app and turn your Android device into an external wireless microphone over a WiFi network. Using Android app, you can speak into your phone or tablet to dictate text to your PC!
Supported Languages for Speech Recognition: Afrikaans, Bahasa Indonesia, Bahasa Melayu, Català, Čeština, Dansk, Deutsch (German), English, Española (Spanish), Euskara, Filipino, Français (French), Galego, Hrvatski, IsiZulu, Íslenska, Italiano (Italian), Lietuvių, Magyar, Nederlands, Norsk bokmål, Polski, Português (Portuguese), Română, Slovenščina, Slovenčina, Suomi, Svenska, Tiếng Việt, Türkçe, Ελληνικά, български, Pусский (Russian), Српски, Українська, 한국어, 中文 - 普通话 (中国大陆) (Chinese), 普通话 (香港), 中文 (台灣), 粵語 (香港), 日本語 (Japanese), हिन्दी (Hindi) and ภาษาไทย
Dictation Commands
Dictation mode on
Enables dictation mode allowing you to dictate in third party software or website.
Dictation mode off
Disables dictation mode allowing you to send commands to Braina.
Enter or New line
To go to next line while in dictation mode.
Type <Text to type>
Allows you to use speech to text in third party software and website while dictation mode is off. Note that punctuation marks are avoided.
Delete that
Deletes last dictated sentence/word in dictation mode.
Backspace
Deletes last character.
Tab
Inserts tabular space equivalent of Tab-key press.
Space
Inserts a space.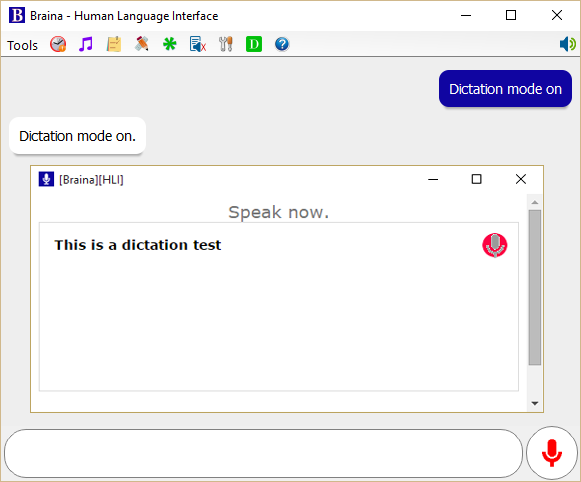 Press the microphone button. Say "dictation mode on" and start dictating in any program or website.
Note that you will need internet connection in order to dictate.