Songs and Video Voice Control
When it comes to music, Braina is very useful. Assume that you have a huge song collection at many different places on your hard drives. It would be pain to search a song that you want to play browsing through a hierarchy of folders. Braina is a speech recognition enabled application that allows you to play and search songs by voice commands and saves you lot of time.
Braina is a voice control music player and it works with any third party music players like VLC media player, GOM player, Windows Media player, Winamp, KM player etc.
You can also use Braina for Android app and get the freedom to play songs on your PC from any place in your house over a WiFi network. You can relax in your arm-chair and give voice commands to play your favorite songs.
Note: If you want to play songs in your Android device then install Musica Voice Control.
Play and Search Songs
Play song
Plays any random song from your computer.
Play <song name>
Plays song with specific name. You don't even need to specify full name.
For example, if you want to play "Summer of 69" just ask it to "Play Summer" (without quotes).
Play Hips Don't Lie
Play One Day at a Time
Play <artist/album name>
Plays songs of specified singer or from specified album.
Play Akon
Play Enrique Iglesias
Play Euphoria
Search song <term>
Searches songs with specified term. Term can be song name, singer name, album name or even music genre.
Search song shakira
Search song blues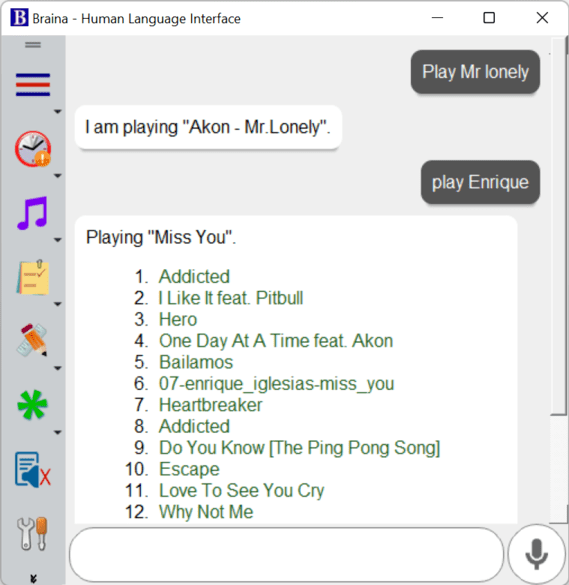 Play and Search Videos
Play video <file name>
Plays video or movies with specific name from your computer. Here <file name> can be a part of of your video filename.
Play video Thriller
Play birthday party video
Search video <file name>
Searches videos with specified name.
Search video Godfather
Search <term> on Youtube
Searches specified term on YouTube.
Search egg recipes on Youtube
Search funny football videos on Youtube
Volume and Playback Control
Pause
Pauses music or video in your media player.
Play
Starts playing music or video from the paused location in your media player.
Volume Up
Increases volume by 10%.
Volume Down
Decreases volume by 10%
Mute/Unmute
Mutes or unmutes volume of your computer.
Maximum volume
Increases volume to maximum
Next Song
Plays next song in the playlist.
Note: Playback control works with most media players like VLC, Windows Media player, GOM player etc. though it works best with VLC player.