Remote WiFi Mouse is a free app that turns your Android device into a wireless mouse, keyboard, touchpad/trackpad and microphone and lets you control your Windows PC over a WiFi network. Watching videos in bed? Listening songs? Or giving a presentation? Remote WiFi Mouse allows you to control your computer freely at anywhere and at any time. You can relax on the couch and remote control your PC.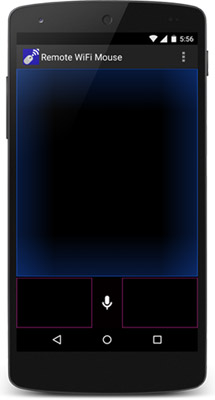 Features
Mouse cursor movement (remote control mouse) - Slide finger on phone's screen to make the PC / Laptop mouse cursor make movement.
Mouse Left and Right click support - Tap on the phone's screen to make PC mouse left button click.
Middle mouse button scroll - Two fingers slide up/down to make PC middle mouse button scroll.
Remote keyboard input (Remote control keyboard) - Press any mobile phone's key and PC will do the same thing.
Speech-to-text (Speech Recognition) - Dictate in any software or website on your PC by speaking into your phone/tablet.
Music / Media Voice Commands - No need to search songs on your computer. For example just say, Play Hips Don't Lie or Play Akon in voice command mode and the song will start playing on your computer.
Shut Down / Sleep / Restart / Log Off Remotely by voice commands.
Remote control PowerPoint (PPT) presentations / slideshow by voice commands.
Open Programs, Websites, Files on your PC by voice commands
Auto-connect on application startup
Compatible with XP / Windows Vista / Windows 7 / Windows 8 / Windows 10
Control Mouse cursor speed / sensitivity
See Getting Started and Frequently Asked Questions to know more.